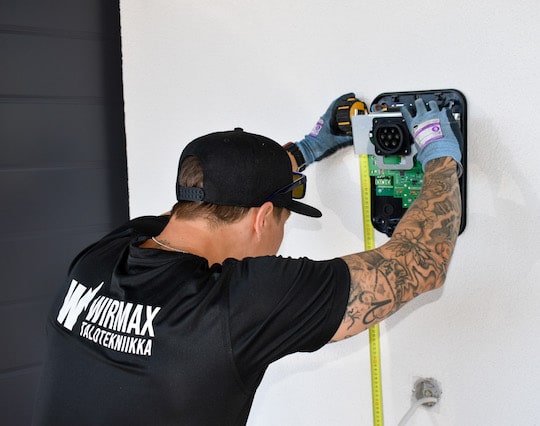 Home EV Chargers
Starting from 1290 € (tax included)
As electric cars become more common, the need for an EV charger in one's own home increases. Wirmax offers installation and maintenance services for EV chargers. Contact us for any questions. Our experts can recommend a suitable electric car charger just for your needs!
Helsinki, Espoo, Vantaa, Kauniainen, Kirkkonummi, Sipoo, Kerava, Tuusula, Järvenpää, Nurmijärvi, Hyvinkää, Lohja, Porvoo
detached house, semi-detached house, terraced house, apartment building, commercial property
Order an EC charger installation
Starting from 1290€ (tax included)
Service experiences Wirmax Oy
"New electrical installations for the heating system of an old house. It went well, on time and as agreed. And the work was neat. I am all satisfied with the work."
"The company promised to replace the IV machine at the beginning of the week. When it's done on Monday at 11:20, it couldn't have gone any better! Absolutely brilliant work! "
"Absolutely great and reliable service! The company sent an employee the very next day and at the agreed time. There was no delay in doing the work, but it was handled promptly and professionally. 6/5 for the company! I have experience with other electricity services in the PK region, and this one was in a class of its own."
Contact us
Do you have a question about our services? Contact us using the form below. We respond to contacts within one day.